Equipment
We Only Use The Latest In Automotive Collision Repair Technology.
NOT ONLY ARE WE THE BEST COLLISION FACILITY IN THE AREA! WE HAVE ADDED YET ANOTHER NEW PIECE OF MACHINERY TO OUR SHOP!
ANY WHEEL, ANY TIRE, ANY SIZE!
With our new HUNTER REVOLUTION TIRE CHANGER!
Have peace of mind that when your vehicles wheel or tire is damaged in an accident that it can be and balanced and replaced with state of the art equipment.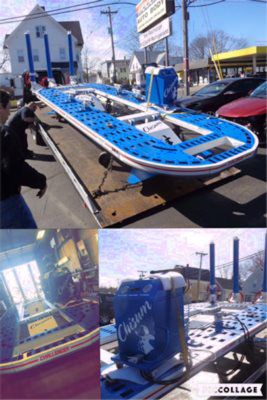 NEW FRAME MACHINE, KEEPING US AND YOU UPDATED!
The Chisum Challenger XLT frame straightening machine is leading technology in the industry. With 30 tons of pulling power and its legendary towers powered by SPX hydraulics. The Chisum Challenger can be positioned any way to achieve.
PAINT BOOTH
We have updated our spray booths to Nova Verta top of the line temperature controlled paint booths for a perfect paint job every time.
PRO SPOT- SP-5 SMART MIG PULSE WELDER
Quality Welding Systems. The SP-5 Has 3 dedicated MIG wire spools (aluminum, Silicon Bronze, and Steel) and 1 torch for each material so no need to switch spools or touches when welding different materials. The SP-5 SMART MIG Welder uses pulse technology for welding on Aluminum and Stainless Steel. It also comes with a TIG torch and Stick (MMA) electrode torch, so you have 5 different welders in one. Equipment like this is a must to keep vehicle repair time down and efficiency up.
PRO SPOT ALUMINUM WELD STATION QUALITY WELDING SYSTEM
"The Aluminum Weld Station is designed to meet all of your aluminum repair needs. The station includes a portable welding cart, accessories for aluminum dent puling, and an AL-5 Capacitor Discharge Stud Welder. The AL-5 is designed for aluminum dent pulling and welding UHSS panels."
MATCO MAXIMUS 2.0 DIAGNOSTIC SCANNER
Pre and Post Scanning is now necessary on most vehicles due to the integration of collision avoidance systems. That is why we have updated our scanning technology and purchased the MATCO MAXIMUS 2.0 diagnostic scanner.
PRECISION WHEEL ALIGNMENT; FEATURING HAWKEYE HIGH-DEFINITION IMAGING TECHNOLOGY
Modern Auto Body uses four precision cameras to measure the position and orientation of targets mounted on each wheel of your car. The aligner uses information to calculate your cars current alignment measurements to the car manufacturer's (O.E.M.) alignment specifications.
MODERN AUTO BODY AND COLLISION TECHNOLOGY
The automotive techs at Modern Auto body are being trained and updated on the Genesis Velocity Laser Measuring system. This system uses lazer beams to aquire complete frame and body dimensions of the vehicle to factory specifications. With our certified techs and equipment Modern Auto body will return your car perfect every time
THE CHISUM FREEDOM FRAME MACHINE & GENESIS VELOCITY LASER MEASURING SYSTEMS
Your vehicles frame will be measured using our laser measuring system & put back to exact factory specifications.
COLOR MATCH WE GUARANTEE 100% AUTO PAINT MATCH
When your vehicle is ready for paint, we use a Photospectrometer from Smartscan to analyze the paint on your vehicle for a true color match. That's how we guarantee nothing less than a 100% auto paint match.
MODERN AUTO BODY HAS THE LATEST IN AUTOMOTIVE COLLISION REPAIR TECHNOLOGY
The following equipment is a must for paint and body shops serious about offering top quality auto body paint and repair.
OTC COMPUTER ANALYZER
The OTC Computer Analyzer diagnoses collision related codes to your auto.
NOVA VERTA SPRAY BOOTHS
We have updated our spray booths to Nova Verta top of the line temperature controlled paint booths for a perfect paint job every time.
LIFETIME GUARANTEE ON MATERIALS
Such is the quality of our materials we happily offer a Materials' Lifetime Guarantee plus a Repair Warranty.
HOW MANY PAINT AND BODY SHOPS UTILIZE THIS EQUIPMENT
If yours doesn't, you might not be getting the best in car collision repair.
Bring your auto to Modern Auto Body – we'll give it back in pre-accident condition – guaranteed.
PATHWAYS AND AUDATEX COMPUTERIZED ESTIMATING SYSTEMS
Modern Auto body uses Pathways and Audatex for a complete and accurate collision estimate. Come by for a free estimate or just bring the collision estimate from your insurance company.
HUNTER WHEEL BALANCER
We use a wheel balancer by Hunter to replace wheels and tires damaged as a result of your auto accident.
SPOT WELDER
Our newest piece of equipment is the Pro Spot Welder. This machine is a water cooled welder able to duplicate factory spot welds and has the capability to weld the newer materials such as boron and high strength steels which are used along with many other metals and composites in the construction of all late model vehicles.
THE ROAD FORCE ELITE
Our new laser tire balancing machine by Hunter. The most advance tire balancing equipment in the industry. This machine can help correct tire pull and eliminate vibration. Used in unison with our Precision Wheel Alignment; Featuring HawkEye High-Definition Imaging Technology we can guarantee your vehicle will go down the road true and smooth. These two pieces of equipment and our highly trained technicians are essential to finish off a collision experience with Modern Auto Body.